Review: The Girl On The Train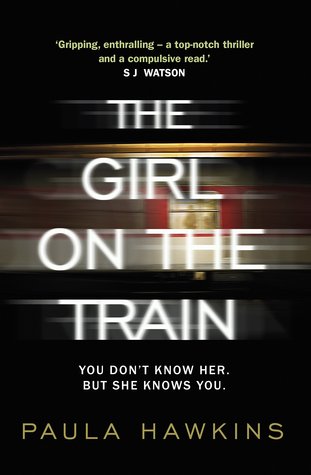 Author: Paula Hawkins
Genre: Psychological Thriller
Binding/Page Count: Hardback, 384
Publication Date: January 15th 2015
Publisher: Transworld Books (imprint of Doubleday)
'You don't know her, but she knows you.'
I was first introduced to this book through my best friend. She said it was a new release that had been pretty hyped up in Cosmo, and it seemed to be something I'd like. I haven't read many psychological thrillers, but they're definitely something I'm getting into. I gave it a quick google, and I'd be lying if I said the synopsis didn't give me goosebumps.
Goodreads Summary:
'To everyone else in this carriage I must look normal; I'm doing exactly what they do: commuting to work, making appointments, ticking things off lists.
Just goes to show.'
Rachel catches the same commuter train every morning. She knows it will wait at the same signal each time, overlooking a row of back gardens. She's even started to feel like she knows the people who live in one of the houses. 'Jess and Jason', she calls them. Their life – as she sees it – is perfect. If only Rachel could be that happy.
And then she sees something shocking. It's only a minute until the train moves on, but it's enough.
Now everything's changed. Now Rachel has a chance to become a part of the lives she's only watched from afar.
Now they'll see; she's much more than just the girl on the train…
My Review:
The Girl On The Train seemed like one of those illusive reads. I felt that if I didn't read it as soon as possible, I was missing out, almost like I'd miss my chance.
Fortunately, my fabulous boyfriend raided my Amazon wish list and I got TGOTT as one of my Valentine's Day gifts.
I picked it up as soon as I had chance.
I thought TGOTT was going to be one of the books I just couldn't put down, that I'd probably read it a sitting.
It ended up taking me six days to finish.
TGOTT opens with Rachel, absentmindedly gazing out from her window view train seat, watching the world go by. We pass number fifteen. Rachel has created a fantasy life for those who live in number fifteen. A perfect life, a perfect relationship- she calls them Jason and Jess.
As Rachel's narrative unfolds, we discover that perhaps her little game of make believe isn't just an innocent escapade, it runs much deeper.
Before reading, I'd pretty much already made a presumption from the synopsis that TGOTT was going to follow a stalker. An obsession turned sour. However, the story holds much more depth. Rachel's narrative coincides with that of Anna and Megan, two women who's lives intertwine with Rachel's; forming an almost web like structure to the story. And with each and every chapter, the connec
tions between the three women became clearer as the threads began to untangle.
Hawkins' showed us the story. I love this kind of writing, it shows real skill to reveal what's happening through obscure hints and foreshadowing instead of just plain telling us.
I was expecting it to be a lot darker. It felt to me as if Hawkins' held back a little. In my opinion the plot felt watered down, subdued. Honestly, I would have preferred for it to have been more sinister. I did feel like I'd been slightly let down. A harsh and creepy undertone would have given it an edge. Without it, I could definitely feel something missing. It didn't feel complete.
The characterisation of the three women gave them real depth. It would have been possible to tell them apart if it weren't for the chapter headings stating who we were reading from. Their voices were so unique and different from one another, it was clear who was who, I didn't struggle to distinguish between them. This really added to the book as a whole. Usually when reading books written from dual perspectives, I have to reread certain parts or double check who's who. With this, I didn't have to. That meant I could immerse myself without the burden of confusion to detract from my reading experience.
If the book was more suspenseful, I would have enjoyed it more. I didn't really feel hooked. A further element of intensity would of helped me become absorbed- I expected creepy, and the book felt devoid of that.
This book did hold many twists and turns, and uncovering Rachel's life was very interesting, however I can't help feeling that something was missing.
If the book carried the same intrigue that the synopsis did, it would have been perfect.
A very clever thriller with heavily developed, unpredictable and very human characters, I would recommend to fans of Gillian Flynn.
3/5 Stars.